Physician Accountability: a Strategy for Leadership and Professionalism
Physician Accountability: a Strategy for Leadership and Professionalism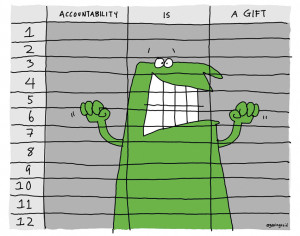 Recently there has been more and more talk at the health system level about the concept of physician accountability.  In Ontario this discussion is part of Patients First LHIN-based initiatives that will have primary care accountable at a local level, possibly with dedicated accountability agreements built into our clinical structures.  The issue became even more prominent at the national level last week after a provocative blog post by former CMA president Dr. Louis Hugo Francescutti, which appeared on the CMA website. He went so far as to suggest that it was time doctors participate in a new social contract; one which had them take a strong leadership position in helping to produce large scale system change, and in doing so become accountable for outcomes. Some doctors were angered by his idea that accountability and professionalism were closely linked.  There were multiple rebuttals by by those troubled by the thought that we should become responsible for enacting what were purely government priorities. They were especially upset by the fact that this was suggested at a time when 40% of the country's doctors (those working in Ontario) are without a physician services contract and are feeling the brunt of universal clawbacks to their billings. Dr. Francescutti offered a more thorough explanation of his views in an excellent podcast hosted by Dr. Jason Profetto this weekend. It provided tremendous background to his thinking and is a much better context for discussion than an 800 word blog post could possibly provide.
In reading the responses to his post I started to wonder about a few things:
what exactly is physician accountability? Is this our responsibility?
why do doctors feel so threatened by it? And,
if accountable care in family medicine is coming, what will it take to make it effective, achieving wide scale buy-in and promoting positive change?
My previous blog post on Optimism led to conversations with some of my colleagues and friends around a feeling of beleaguerment in physicians. This idea will be explored in another piece of writing, but the beleaguered physician will naturally push back against accountability. He will say that he cannot possibly put another thing on his plate. He cannot be made responsible for fixing a broken system or for dealing with the inefficiencies he sees all around him. Accountability means new work. It means exposing parts of our practises that may not be effective and in fact commits us to improving them.
This seems overwhelming.
But I believe that accountability is unjustly feared. Perhaps this is because many of us associate accountability with blame, finger-pointing, and even shame. When agreements are hoisted upon people from above, in an environment of deepening distrust, then it is easy to see how doctors are worried that in some way such contracts will be used to punish them.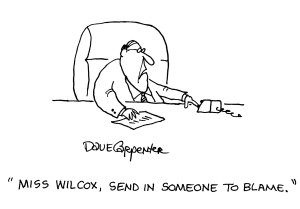 But I don't think accountability is about blame or fault-finding at all. If implemented correctly it leaves no power imbalance and is bilateral in nature. With active physician participation it does not need to be implemented in a heavy-handed fashion.  It is hinged on measurement,  data, and evidence… something we are all familiar with.
Accountability is simply about matching the desire to to do the right thing, with showing that the right thing is actually happening. It lines up intent with outcomes.
Of course there are many discussions in physician circles trying to address "the what" of accountability (which indicators are meaningful?), "the how" (what are the rules governing measurement and reporting?), "the who" (who has the authority to create and enact these agreements?) and "the when" (how often should we look? When do we have enough data to be accurate?). But these questions cause us to become lost in tactical analysis. The real conversation should be more strategic. It should be addressing the question "why?".
Why do we need to be accountable?
Many doctors will state that we are already accountable, most importantly to our individual patients. But others argue that in fact we may not be accountable enough to these groups. It is easy to operate as physician islands in a churning sea of care when looking after individuals one by one by one. Our cognitive bias tells us that our patients are incredibly well looked after, and in many cases they probably are . They must be very satisfied, as we are good doctors and they keep coming back! The problem is that we don't know what we don't know. We don't often examine outcomes purposefully and we rarely ask our patients' about their experience. Accountability involves exposing this information under a critical lens and opening up opportunities for improvement. Not only should we physicians be accountable to our patients as individuals, but we also have a unique responsibility for the health of the larger community that we care for. In population-based care the whole is much greater than the sum of its parts. If we step back and look, we will see many opportunities to improve the health of our practices and patients overall.
Another part of asking "why?" involves the concept of being accountable to our peers. Many of us who work in integrated practises understand this already. Some individual autonomy is given up for the good of the group. We are accountable to our colleagues for our expenses, for our patients' outside use, and for upholding our own internal codes of professionalism. This allows a reliable and stable practice enviroment to be built. Such a practice has inherent flexibility and can react positively to almost any external pressure. Change initiatives which are supported and adopted by practices such as these are more likely to be permanent and to be effective. Also, once we have looked at our own performance, it is very helpful to compare it to that of our peers. Doing so taps into physicians' unique personality traits that support accountability: perfectionism, competitiveness, and a keen sense of responsibility.  These can quicken the pace of change.
A third component strategically asking "why?" Involves understanding our accountability to the healthcare system writ-large. In socialized healthcare it is impossible to deny that the behaviour and performance of physicians has a massive system level impact.  Understanding that what we do or don't do has an effect on system cost and overall sustainability is pivotal here. Measuring and being accountable would show us the effect of our choices and from there we can create programs that garner immediate benefit. Again, to do this well, we must have exposure to reliable data at an enterprise level. Measurement and reporting are key. But a commitment to act on the results of what is being measured is even more important.
Physicians have a huge responsibility for health system improvement. This is not something we can abdicate or delegate, even in the toughest times.
Accountability, in my mind, presents a huge opportunity for our profession. If we have line of sight into our own data first and use it to analyze the quality of our care with the desire for making it the best it can be, then we have taken a very important first step. With that we can begin to compare ourselves to our peers and create meaningful goals and benchmarks to measure against. From there, comparing the same data married to information at the system level provides the ability for physicians to take hold of high-level issues, armed with wisdom and evidence. This will drive meaningful improvement and enhance sustainability.
In showing leadership for accountability we cannot wait to be invited to the table. I certainly hope that we never have to be coerced or forced. Incentives are helpful for starting the process, but they are not all that is required for success.  Measurement and reporting are inherent in the process, and this creates discomfort when it exposes our vulnerabilities. But by starting with intent and matching this to outcomes (both known and unknown), we can lead change. Then we show results that will impress even the most cynical health care planner.
Doctors can set the stage for this new scope of work. We should be involved in the development of meaningful measures. We can embrace reporting to ourselves and our peers but also to the larger health care system. With data and knowledge about where gaps exist we can more purposefully work toward filling them and produce real benefits. In my mind, this is true accountability. Doing this well will show ownership of sustainability issues and great leadership in creating an integrated high-performing healthcare system. This is not about blame or the pointing of fingers.  Is about stepping up and committing to cooperative change. This is the hallmark of professionalism and I believe it is what Dr. Francescutti was trying to convince all of us of when he wrote.
Your thoughts and comments are welcome!